April 12, 2010

So there we were(me and my roommates) ready to tackle the greatest challenge of all time eating a DoubleDown. It was a short stroll from where we live because there is at least 2 KFCs to a square mile in Philadelphia. As we walked in were we shown more light on this sandwich by the giant cardboard cutout that explain the combo and sandwich only prices to us and after waiting 10 minutes in line we soon were able to order form our wonderful cashier Mareshah.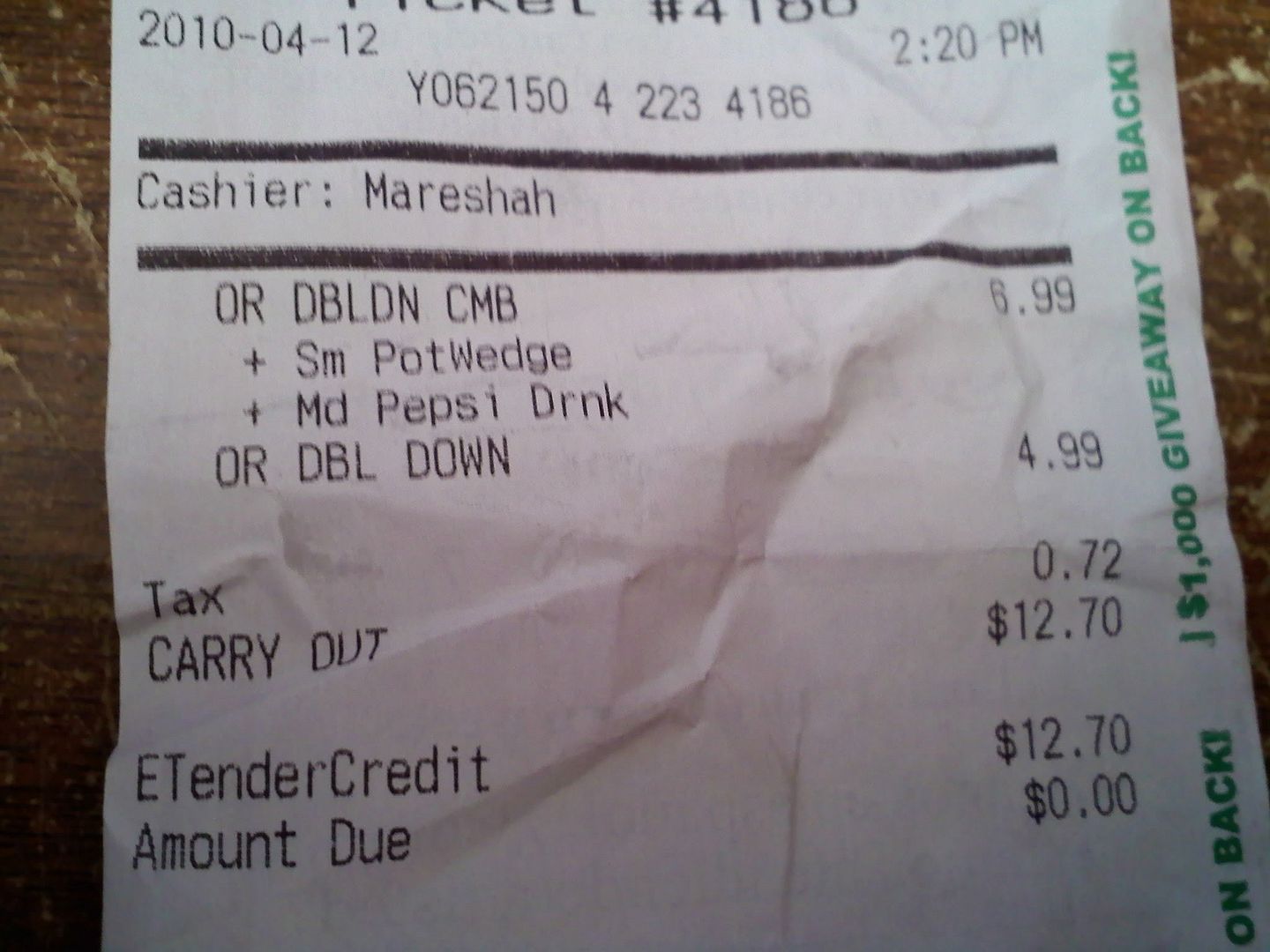 We then were informed that our orders would take 5-10 minutes to be ready because they needed to cook some more chicken and we proceeded to enjoy the Dr. Pepper on tap at the drink fountain. After what seemed hours our orders were ready and we headed to the nearest table to enjoy our feast. I began to remove each component from the bag with jeweler's like precision and arranged my meal in the correct placement for proper consumption.
I was first worried about the 'caution hot' label on the sandwich wrapping but it was quickly ignored.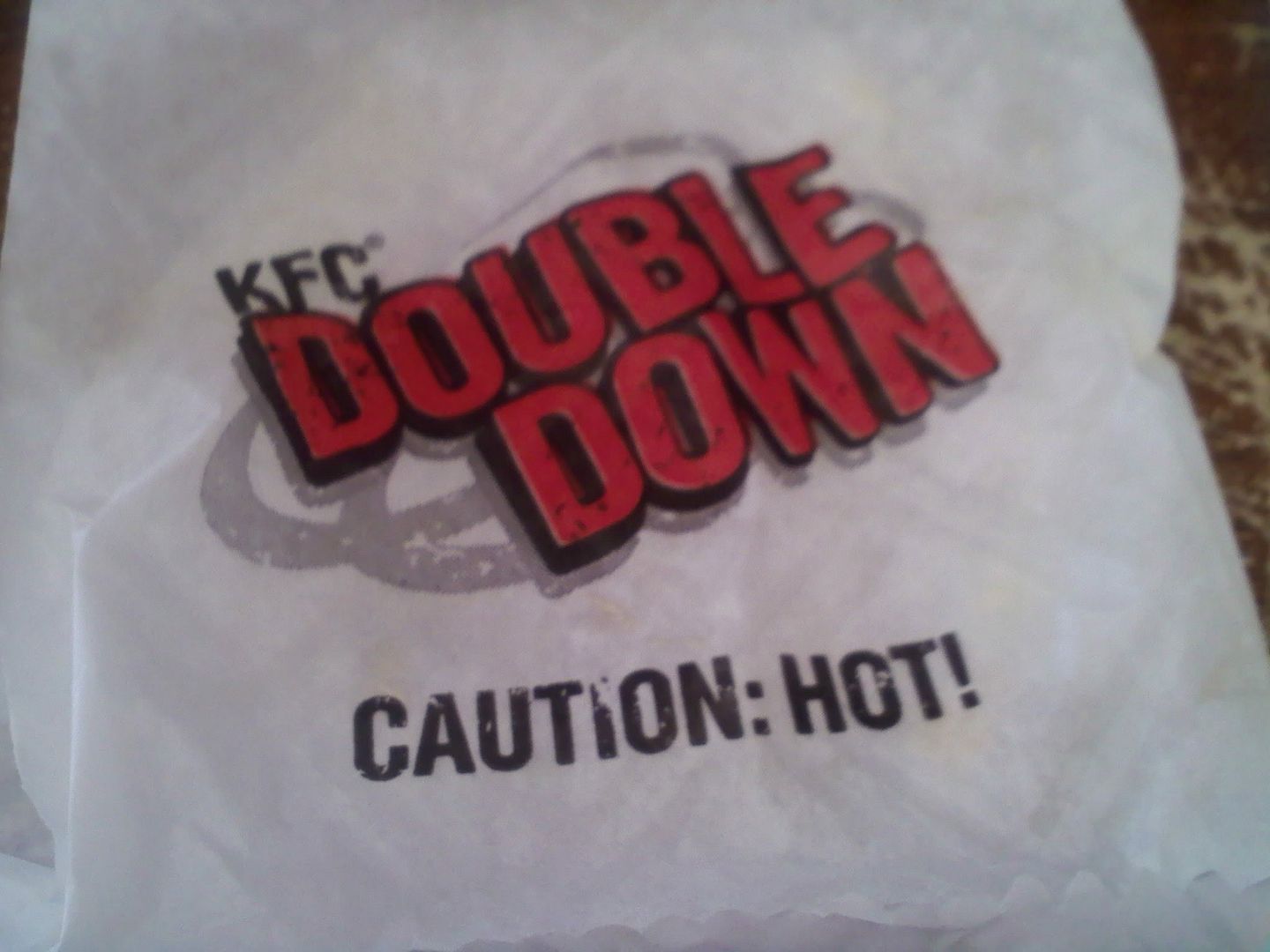 I take the plunge first due to my roommates insisting on eating their potato wedges first and the taste of cheesy greasy chicken overwhelms my taste buds, then the scalding hot grease proceeds to destroy the front of my tongue. After a few more small bites then sandwich begins to fall to my whim and begins to cool to a edible temperature.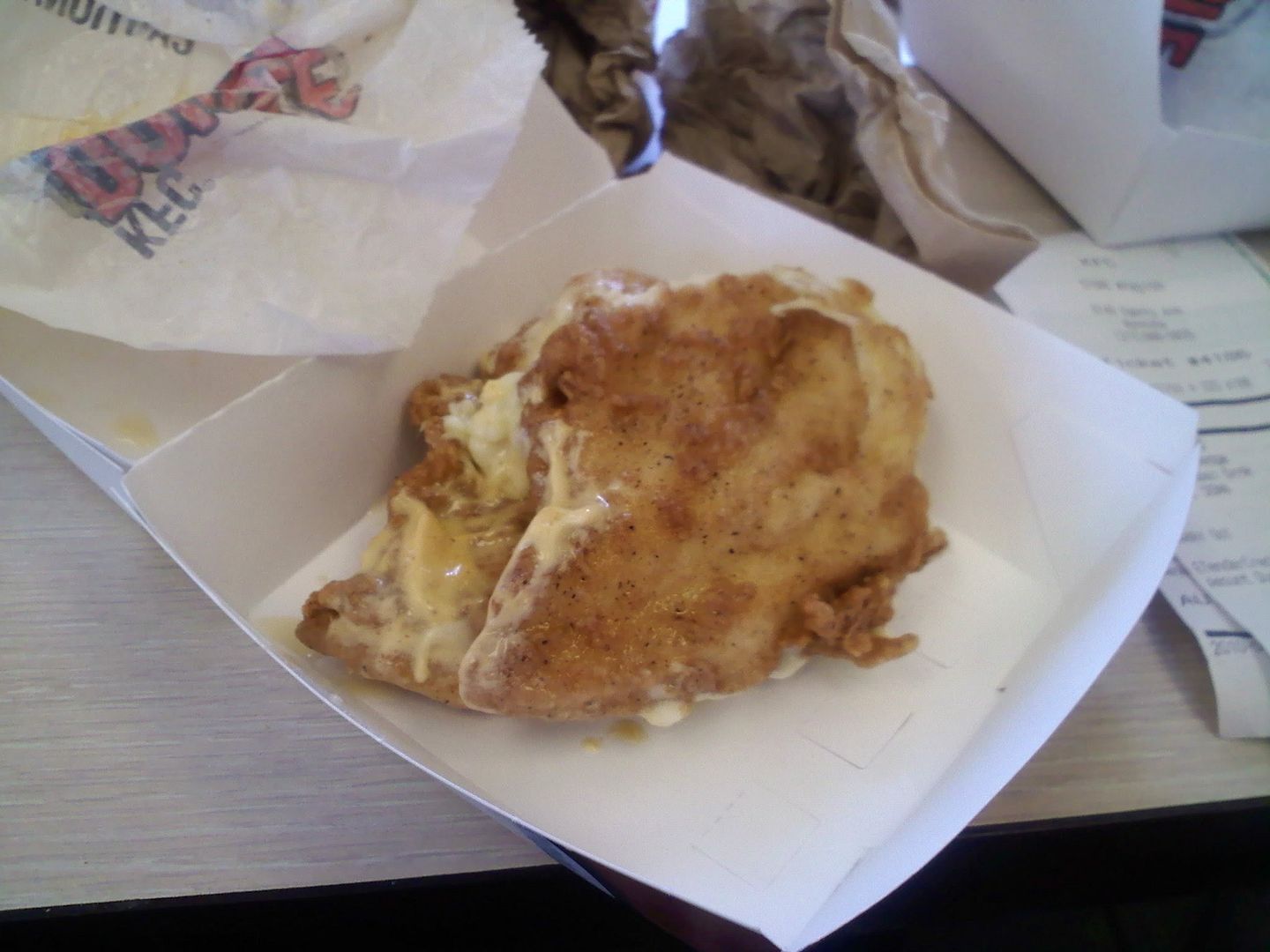 After a period of ten minutes then sandwich fell and I had not felt this full and disgusted since my pizza burger. My biggest enemy at this point was the grease, some of it even managed to get on my shorts and hit the floor but after eight napkins this was soon not a problem. As I was finishing my fries i watch my '1upper' roommate finish his 3rd DoubleDown and proceed to eat his KFC Famous Bowl. So after my roommate who nearly puke watching us eat the DoubleDown went outside to get fresh air, he exclaimed his dis test of the sandwich.
The walk back was a living hell between holding the extra sandwich which I was going to eat for dinner and watching my roommate who bet he could eat 3 DoubleDowns almost puke them up wasn't as fun as I had expected. And this was my experience with the KFC DoubleDown sandwich. It's a good sandwich but I would highly recommend waiting 10 minutes after you order to eat it this not only saves you from dripping hot grease but also gives the cheese more time to melt.